Course details
【Important time at the course of the Park's proud boat ♪】 Kaiseki course 7 items 5000 yen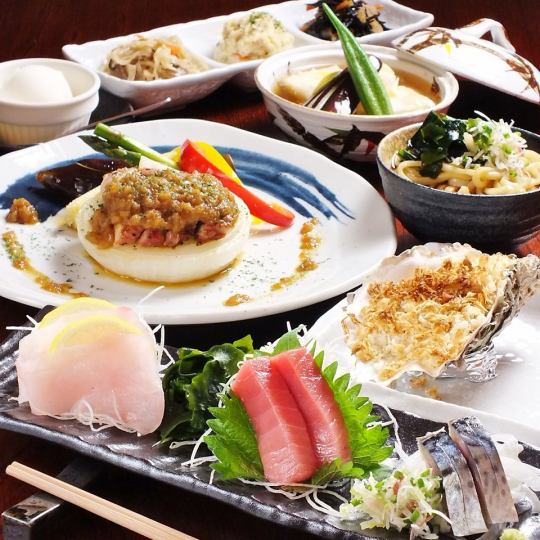 By using a coupon5000 Yen
All-you-can-drink available

2 hours (30 minutes before last order) can be changed with all you can drink! Standard all-you-can-eat as much as you want 1500 yen (tax included) / ★ All you can drink 2 premium all you can drink 2000 yen (tax included) ★ I prepared it.Extension will be accepted at +500 yen (tax included) per person.
Reservation deadline

Until 22 o'clock the day prior to the desired shop visit date
Available days for reservation

Monday - Sunday - Public holidays - Holidays
From our pride of pride, from fresh sashimi to fresh sashimi, broiler to dessert You can enjoy this course without leaving a cup of cooked dishes, welcome party, entertainment, seats for celebrations and farewell party ◎ Also, at extra charges 2 It is possible to change it with time all you can drink.
Course menu
◆ Appetizer 3 points
3 points of today's banzai
◆ Souvenir 3 points
Broiled fish
Grilled fish, oyster garlic, salt-grilled oysters etc.
Broiled meat ◆
Charcoal grilling of Margaret pork
Simmered dish
Our popular 'Pork noodles'
◆ meal
◆ Today's dessert
※ The content is an example.The content changes according to the purchase and season recommendation
All-you-can-drink menu
·beer
· Draft beer / non alcoholic beer
· Shochu High · Sour
· Water split / green tea high / oolong hi / lemon sour / grapefruit sour / plum sour / yuzu sour
·Highball
· Black Nikka High Ball / Lemon High Ball / Ginger High Ball / Cola High Ball
·Cocktail
· Cassis soda / cassis oolong / cassis orange / cassis grapefruit / peach soda / peach oolong / peach orange / peach grapefruit
· Shochu
· Black Kirishima 【potato】 / Nikaido 【wheat】
·Plum wine
·wine
· Glass wine 【white / red】
·Sake
· Cold Sake / Incense God (燗)
·Soft drink
· 100% orange juice / 100% grapefruit juice / oolong tea / coca-cola / ginger ale
· ★ You can order additional premium drinks ★ above.
· <Shochu> Tomonobuyama 【potato】 / Kikuchi Baoshan 【potato】 / Kiroku 【potato】 / Midori 【Wheat】 <Plum wine> Tsurume mature plum wine / Phoenix Mida ripened secret plum wine / Kimiko (Yuzu) <Hi Ball> Jack Daniel High Bowl / Take crane high ball <Sake> Sawaya Matsumoto / Ko / Yamagata Masami / Phoenix Mita
Coupons that can be used with this course
2018/09/06 update