Course details
【Recommended for New Year's party · Farewell party ♪】 All 7 items Park incorporation course 3500 yen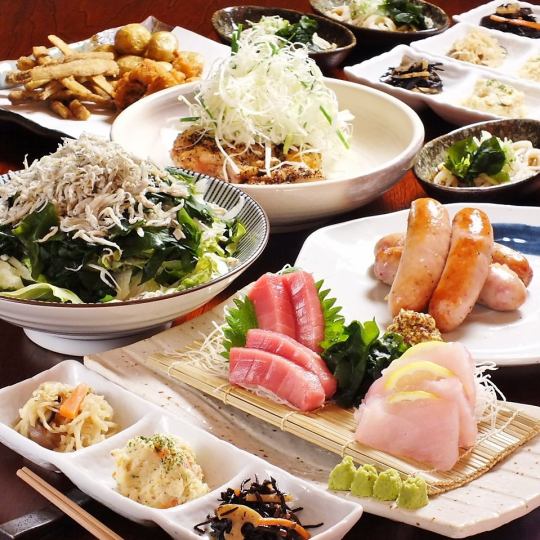 By using a coupon3500 yen
All-you-can-drink available

2 hours (30 minutes before last order) can be changed with all you can drink! Standard all-you-can-eat as much as you want 1500 yen (tax included) / ★ All you can drink 2 premium all you can drink 2000 yen (tax included) ★ I prepared it.Extension will be accepted at +500 yen (tax included) per person.
Reservation deadline

Visit of hope the day before until 22:00
Available days for reservation

Monday - Sunday - Public holidays - Holidays
New year's party that you can enjoy with our delicious dishes.It is popular also from the guest of the farewell party because it is full volume from the appetizer to the meal ♪ In addition, it is possible to change it with a 2 hour drink all you can at separate charge so the secretary is happy ♪
Course menu
◆ Appetizer 3 points
Variety of boastful boasters
◆ salad
◆ Souvenirs 2 points
Roasted
Adult sausage
Broiled meat ◆
Grilled young chicken with rock salt and drenched onion
◆ fry
Today's deep-fried food
◆ meal
Udon noodles
※ course content is an example.
It may differ depending on the season, purchase, preparation status.
All-you-can-drink menu
·beer
- Draft beer / non-alcoholic beer
· Sake High Sour
· Water split / green tea high / oolong hi / lemon sour / grapefruit sour / plum sour / yuzu sour
·Highball
· Black Nikka High Ball / Lemon High Ball / Ginger High Ball / Cola High Ball
·Cocktail
· Cassis soda / cassis oolong / cassis orange / cassis grapefruit / peach soda / peach oolong / peach orange / peach grapefruit
Shochu
· Black Kirishima 【potato】 / Nikaido 【wheat】
·plum wine
·wine
· Glass wine 【white / red】
·Sake
· Cold Sake / Incense God (燗)
·Soft drink
· 100% orange juice / 100% grapefruit juice / oolong tea / coca-cola / ginger ale
· ★ You can order additional premium drinks ★ above.
· <Shochu> Tomonobuyama 【potato】 / Kikuchi Baoshan 【potato】 / Kiroku 【potato】 / Midori 【Wheat】 <Plum wine> Tsurume mature plum wine / Phoenix Mida ripened secret plum wine / Kimiko (Yuzu) <Hi Ball> Jack Daniel High Bowl / Take crane high ball <Sake> Sawaya Matsumoto / Ko / Yamagata Masami / Phoenix Mita
Coupons that can be used with this course
2018/09/06 update